IONIQ 6 EPIQ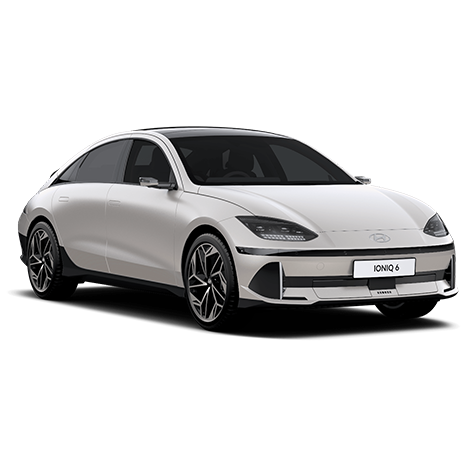 $96,782* D/A

Driveline.
HTRAC Dual Motor All Wheel Drive (AWD).

Performance.
239kW / 605Nm.

Electric range[P1].
519 km.

Battery & Charging[C1].
77.4kWh lithium-ion battery & Conditioning system.

Exterior mirrors.
Digital Side Mirrors (DSM).

Ventilation & heating systems.
Heated & ventilated front seats, heated steering wheel & rear seats.

Wheels.
20" Alloy wheels with 245 / 40 Pirelli P Zero tyres.

Adjustable seats.
Relaxation mode - fully reclining front seats.

Roof.
Wide sunroof.

Connected services[P3].
Bluelink & Over-The-Air (OTA) software updates.

Cargo capacity.
401L cargo with underfloor storage + 14.5L frunk.

Safety.
Hyundai SmartSense®[S].


Explore IONIQ 6
---
Disclaimer
[1] Applies to all new CE.V1 IONIQ 6 models for the first 4 years/60,000km, whichever comes first. Eligible vehicles are entitled to free standard scheduled maintenance (i.e. logbook) services at participating authorised Hyundai dealers. Free scheduled maintenance services must be redeemed within specified service windows and are of limited scope. Terms, conditions & exclusions apply. Offer available until 31st October 2023. *The Drive-away Price is an average, estimate price which includes the recommended retail price, registration, compulsory third party insurance (CTP), an estimated dealer delivery charge, stamp duty, options entered, and other applicable statutory charges. Prices will vary from state to state and dealer to dealer, and on-road costs will vary according to individual circumstances. All product information and prices are subject to change without notice. Please contact Hyundai to confirm the price that is specific to you. [B1] All new Hyundai electric vehicles are backed by a 8-year or 160,000km High Voltage battery warranty. For full terms and conditions of the warranty, visit Warranty Terms and Conditions. [B2] Requires compatible device and connectivity. [C1] When connected to an 800V ultra-rapid charger, the IONIQ 6 can recharge from 10% to 80% in 18 minutes. Charging times may increase if peak charging rates are not achieved. Charging times will also be dependent on the condition and durability of the high voltage battery, charger specifications, and ambient temperature at point of use. [C2] Charging time may increase if peak charging rates are not achieved. The purchase of a home charging station does not include the cost of installation. Installation of a home charging station is at additional cost and should be conducted by a qualified and experienced electrician. [C3] Only use the charging cable that is suitable for your electric vehicle. The manufacturer takes no responsibility for defects associated with a faulty charging unit or vehicle. Suitable for use indoors and outdoors, including in light rain conditions. Not suitable for use in other rain conditions. Do not submerge in water. Do not allow minors to operate. Please carefully check compatibility and use limitations before using. [C4] Maximum output availability is subject to factors such as charger condition, power source reliability and environmental conditions. [C5] Tow bar kit only compatible on 77.4kWh variants only. [S] Safety features are not a substitute for attentive driving. [S1] Please confirm local road rules and regulations prior to using this feature. [A] All Hyundai genuine accessories are backed by a 5-year warranty if purchased at the same time as a new Hyundai and fitted by an authorised Hyundai Delivery Specialist. See PDF for full warranty terms and usage recommendations. [P1] 614km range applicable to DYNAMIQ variant only. TECHNIQ and EPIQ variants 519km. Figure based on WLTP (Worldwide Harmonised Light-Duty Vehicles Test Procedure) static laboratory combined average city and highway cycle test, which measure, energy consumption, range, and emissions in passenger vehicles, designed to provide figures closer to real-world driving behaviour. Real life driving results will vary depending on a combination of driving style, type of journey, vehicle configuration, battery age and condition, use of vehicle features (such as heating and air conditioning), as well as operating, environmental and climate conditions. [P2] Digital Side Mirrors only available in EPIQ variant. [P3] Requires Bluelink® to be activated, compatible device & app installation, third party info, mobile data, network reception and GPS signal to operate. Mobile usage at user's cost. Not available in areas not covered by the Optus 4G/3G network in Australia or if services are disabled or terminated. Features and app are subject to change. [P4] IONIQ 6 seats are partially comprised of eco-processed leather, which uses flaxseed oil extract in the dying process to reduce wastewater, with residual oil biodegradable. Some fabrics used in IONIQ 6, such as carpets and floor mats, are partially made from recycled fishing net yarn (approximately 20%). [P5] 100g of flaxseed extract is used per unit in the dyeing process so that the inside of the leather remains. The expected effect is a biochemical oxygen demand and chemical oxygen demand reduction in wastewater from the leather manufacturing process, with residual flaxseed oil biodegradable. Finishes specified as leather may contain elements of genuine leather, polyurethane leather (leather substitute) or man-made materials, or a combination thereof. [P6] Approximately 25.4% of yarn composition contains bio-ingredients derived from sugar cane. Expected effect is CO2 reduction of 2% in the production process compared to chemical. [P7] Bio polyurethane paint contains ingredients from plant-extracted oil. Biomaterial content is approximately 10%, with expected reduction in CO2 approximately 0.31kg/car. [P8] Content of eco-friendly yarn in yarn composition is approximately 20%, with an expected effect of CO2 reduction of 66.3% in the production process compared to chemical fibre made of general poly material. [P9] Expected effect to reduce CO2 by 40g per car. Hyundai SmartSense® is a registered trademark of Hyundai Motor Company. iCare For full terms and conditions of Hyundai's iCare program and it's components, please visit www.hyundai.com/au/en/owning/icare 5 Year Warranty [H1] If the vehicle has been used for private and domestic purposes and is not and has not been previously used for a commercial application, including but not limited to taxi, hire, rental, courier, security, driving school, tour, bus operator or emergency vehicle. Vehicles used at any time for "commercial application", as defined in the vehicle warranty policy, are excluded. Passenger vehicles that are or have been used for a commercial application are provided with a 5 year/130,000km warranty (whichever occurs first). Lifetime Service Plan [H2] Hyundai provides online quotes which specify the maximum price applicable for a vehicle's scheduled service at a participating Hyundai dealer and using Hyundai Genuine Parts (where required). Online quotes are available at hyundai.com.au/en/find-a-dealer#service, apply for a stated effective period only and may change after that effective period without notice. Standard scheduled maintenance services are of limited scope. The benefit of online quotes is available for all Hyundai's, for their lifetime. See PDF for full terms and conditions. Premium Roadside Support Plan. [H3] 24 months included Premium Roadside Support when you purchase a new IONIQ 5 V.3 and IONIQ 6. For purchases of IONIQ 5 V.1 and V.2 vehicles, Hyundai offers 12 months Premium Roadside Support. Premium Roadside Support commences from the date of the vehicle's warranty commencement. When you have your Hyundai vehicle's scheduled service at a participating Hyundai Dealer, you will receive the corresponding period of Premium Roadside Support from the date of service. This is available for all Hyundai vehicles (excludes rental buyers and taxis). See hyundai.com/au/en/owning/icare/roadside-support for full terms and conditions. Sat Nav Update Plan [H4] Updates are included if the vehicle completes a scheduled service at a participating Hyundai dealer. Updates must be undertaken within 10 years of the vehicle's initial purchase, maximum number of 9 updates. As part of the Sat Nav Update process, some of your settings may need to be reset. See hyundai.com/au/owning/icare/sat-nav-plan for full terms and conditions. Motor Dealer Licence NSW: MD 11424 | QLD: DL 4467592 | WA: MD 27831
---
Bunbury Hyundai
Mon-Fri:

8:00-6:00pm

Sat:

8:00-1:00pm

Sun:

Closed
DL: DL21223